2023
Januari
Performance –13 Festivalen. Konstepedemin, Gothenburg, Sweden
June
Exhibition- KMK, Konstnärernas Mamma Kollektiv, Stora Galleriet, Konstepedemin, Gothenburg
2022
Januari
Exhibition "Reflektioner" Glasverkstan Dalarna, Borlänge, SE
September
Podcast on Motherhood, by Janneke Schoene, Whose Museum.
Organizing KMK member exhibition at Whose Museum, Malmö
October
KMK, Konstnärernas Mamma Kollektiv, travel to London to meet Procreate Project
                             Exhibition Mora Kulturhus, Medlemsutställning KID, (Konst i Dalarna)Mora, Sweden
November
Travel Grant, Swedish Arts Grants Committee
2021
April
Konstnärsnämnden Krisstipendium 3
Juni
Göteborgs Stads Kulturstipendium
Juli
Vistelsestipendium, Danielsgården, Rättvik. SE
September
Medlemsutställning, KID, Rättviks Konsthall, SE
October
Performance- Blues Baby Blues, Project by Sarah Schmidt, Atalante, Gothenburg, SE
Exhibition- Vad är nytt, GötaVerken, Gothenburg, Sweden
Stipendium- Otto & Charlotte Mannheimers fond, Gothenburg, SE
November
One year working grant, Swedish Arts Grants Committee, SE
December
One year studio grant, Gothenburg City, SE
2020
3-5 Januari
13 Festivalen, Performance festival, Konstepedemin, Gothenburg, SE
6 March, 16.00
2020 Performance Thinking Back Through our Mothers, with KMK at the opening of Reaching for the Heavens, Loosing the Earth, by Azadeh E Zaghi and Carrie Bobo, Läppstiftet, Gothenburg, SE
May
Västra Götalands Kulturstipendium
September
Our daughter Maj Ingrid Sandberg is born
December
Decemnber Kalendern, Peepshow, Galleri 54, Göteborg, Sverige
Book, published by Galleri Svarta Gran, exhibited artists 2019, SE
Konstnärsnämnden, Krisstipendium, 2, SE
2019
Familjen Wikanders Stiftelse, Gothenburg, SE
IASPIS Travel Grant, The Swedish Arts Grant Committee, SE
Studio grant, Gothenburg City, Sweden 2019-2022
Founded KMK, Konstnärernas Mamma Kollektiv in Sweden.. A community aiming to invite ourselves and other mother artists to participate in keeping the integrity of work and identity as artists through motherhood.
http://www.konstnarernasmammakollektiv.se
Gang of two
Karin Sandberg
PEEPSHOW, Galleri 54, Göteborg
www.galleri54.com
As part of GIBCA (Gothenburg International Biennal for Contemporary Art)Extended 2019
05 september 2019 – 29 september 2019
Opening torsdag 5 sep
Gang of two (2019), 8 min 23 sek
Videoverk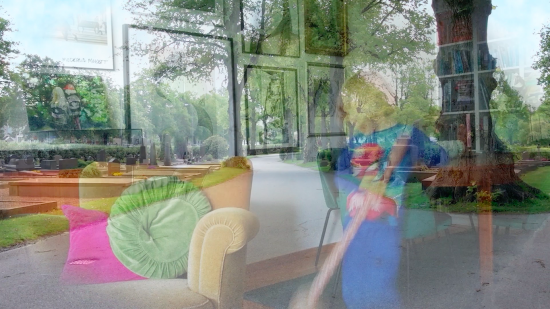 Soloexhibition Devouring Heaven at Galleri Svarta Gran, Borlänge, Sweden