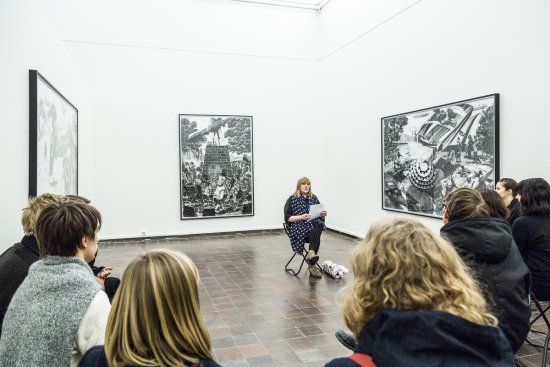 Artist talk Karin Sandberg at GIBCA's (Göteborg International Biennial for Contemporary Art's) exhibition A Story Within a Story, Göteborgs Konsthall, 2015. Photo by Kjell Caminha.
In my artistic practice I work with themes of identity, specifically identities marginalized in history and society: It's about the stories that are not told and the voices that are not heard. I use my own voice as a medium in place of these unheard ones, for inviting the viewer into my works. To write site-specific texts and music—to compose based on literature or personal stories—has been a central part of my methodology for some years now. Projects I've been engaged with share an interest in language, social practice, activism, feminism, voice and collaboration, artist-led initiatives and art outside of the normal exhibition-frame. My interest in the 'Group' as identity marker has become evident in my art and research: The group that is collective—the group as inclusive, exclusive, the group as threat, group security… Present are also ideas of ethnicity, of gender, of the artist-as-mother, and of class-belonging. I wish to include people into my work where I raise, highlight, and question various social issues.
All this is underscored by using music as the essence of a unifying force.
– Karin Sandberg, 2019