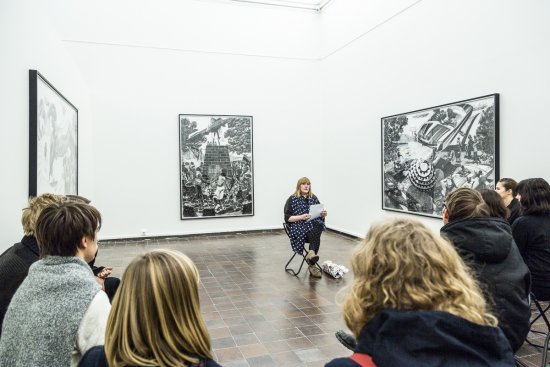 Artist talk Karin Sandberg at GIBCA's (Göteborg International Biennial for Contemporary Art's) exhibition A Story Within a Story, Göteborgs Konsthall, 2015. Photo by Kjell Caminha.
My work is characterized by an interdisciplinary openness, embracing equal parts audio- and visual expression. The art-making process is very precise, as each day is divided into the same rhythm: breakfast, work, snack, work, lunch, work, coffee break, work, dinner, work. I find comfort in the routines of everyday life, in trying to capture the small distinctions within apparent sameness. This has been my working method for the last ten years. 'Time' as a central theme has created a huge archive of songs, writings, drawings and photographs. However the final outcome of my work is depending on context to decide whether it should be presented as film, music, drawings, books, karaoke, performance, or something else.
In my artistic practice I work with themes of identity, specifically identities marginalized in history and society: It's about the stories that are not told and the voices that are not heard. I use my own voice as a medium in place of these unheard ones, for inviting the viewer into my works. To write site-specific texts and music—to compose based on literature or personal stories—has been a central part of my methodology for some years now. Projects I've been engaged with share an interest in language, social practice, activism, feminism, voice and collaboration, artist-led initiatives and art outside of the normal exhibition-frame. My interest in the 'Group' as identity marker has become evident in my art and research: The group that is collective—the group as inclusive, exclusive, the group as threat, group security… Present are also ideas of ethnicity, of gender, of the artist-as-mother, and of class-belonging. I wish to include people into my work where I raise, highlight, and question various social issues.
All this is underscored by using music as the essence of a unifying force.
– Karin Sandberg, 2016