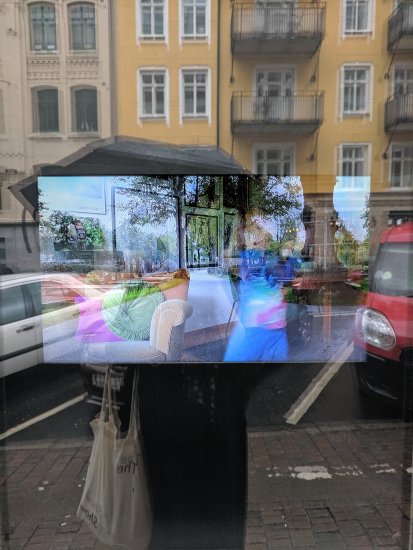 Installation Peepshow, Galleri 54, GIBCA Extended, 2019
 I filmen Gang of two visas tid tillsammans med min son där vi cyklar i vår lådcykel över Östra Kyrkogården i Göteborg. Att vi just är på kyrkogården har sin förklaring i att utrymmen i
staden för att leka, öva sig att cykla utan biltrafik, fika har minimerats med åren. Lekytor försvinner och barnen som
växer upp i städer använder kyrkogården som ett ställe att leka och cykla på­ precis som min son har gjort. Vi bär
jackor med emblem på ryggen där det står Mother & Son cruisers som visar att vi också är ett gäng. Ett gäng
som bygger på kärlek, förståelse och utan våld och hot i motsats till gäng på motorcykel. Gang of two visades för första gången under min soloutställning Devouring Heaven på Galleri Svarta Gran
2019 men även i Peepshow under Gothenburg Biennal for Contemporary Art, på Galleri 54 under hösten 2019.
Gang of two, video, 8 min, 2019
Music, lyrics: Karin & Arvid Sandberg
Filmare: Karin Sandberg, Pär Jonsson
Film redigerad av:Olof Bäckström